ARMs Race | All about Google Tensor
Google has officially announced that its Pixel 6 series, powered by its own in-house chip called Tensor. Let's examine all the additonal information we learn about Google's new in-house chip.
Tensor is the company's first system-on-a-chip-technology marking a major achievement from a massive investment in capital and the right people. Google will have to have much better Pixel sales numbers to support that massive investment however. Accompanying the new Google-designed Tensor chip is a wild new design for the Pixel 6 and Pixel 6 Pro, making a dramatic splash in the market in an attempt to wrestle Android Marketshare away from Samsung.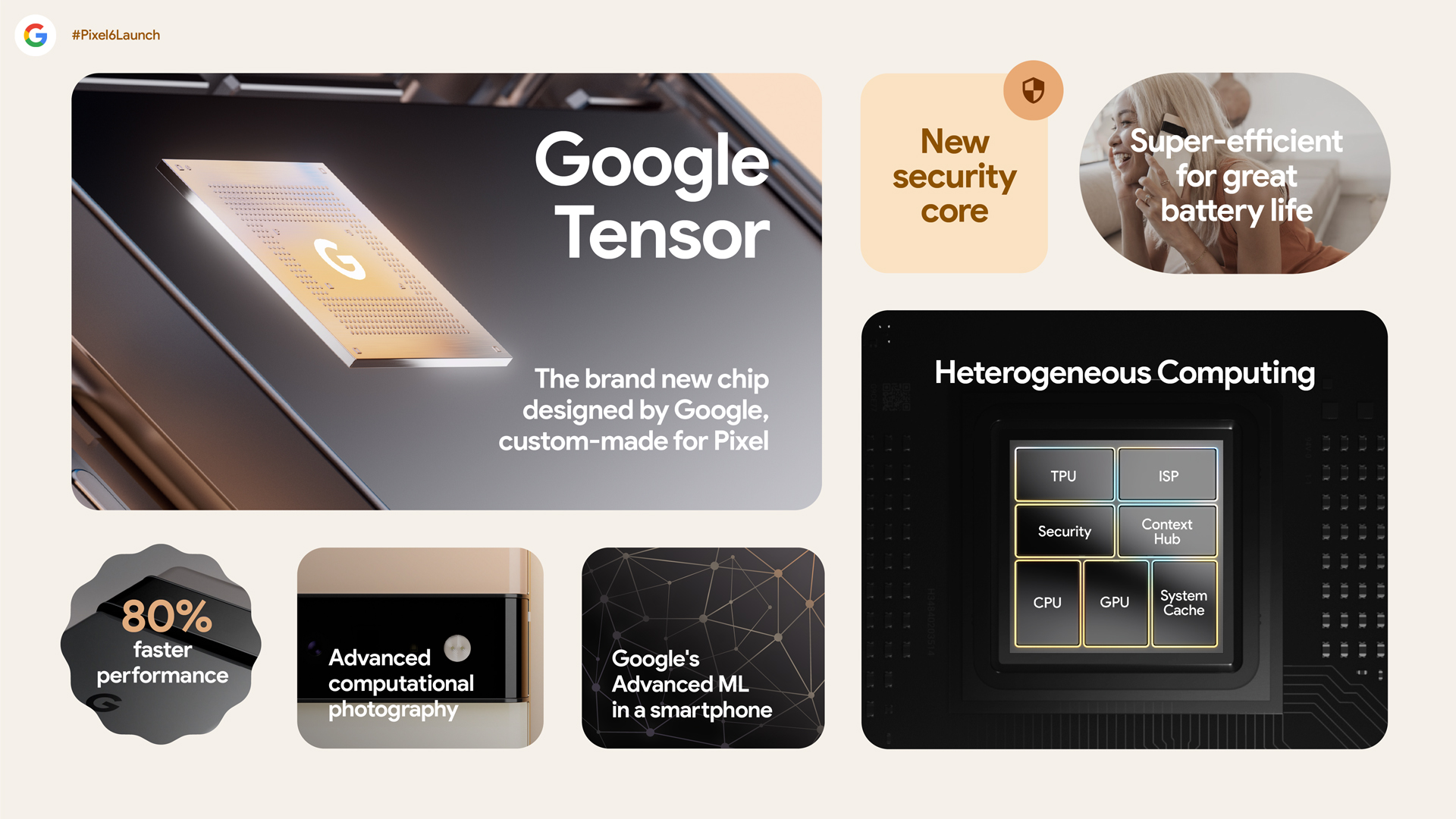 Tensor will be about more than just traditional computing power, it will focus on advanced AI and ML (Artificial Intelligence and Machine Learning) to "unlock specific experiences for Pixel users."
In Google's blog post, the company says that one of the company's main priorities with Tensor was computational photography "with Tensor we thought about every piece of the chip and customized it to run Google's computational photography models. For users, this means entirely new features, plus improvements to existing ones."
"Tensor enables us to make the Google phones we've always envisioned — phones that keep getting better, while tapping the most powerful parts of Google, all in a highly personalized experience."

Rick Osterloh SVP of Devices & Services at Google
Google says that Tensor will improve everything from "completely revamped camera system to speech recognition and much more. So, whether you're trying to capture that family photo when your kids won't stand still, or communicate with a relative in another language, Pixel will be there — and it will be more helpful than ever."
Google Pixel 6
Screen size: 6.4″
Display: AMOLED
Rear camera setup: 50MP (Wide) + 12MP (Ultra wide)
Front camera: 8MP
Battery: 4614mAh
Processor: Google
Ram: 8GB
Storage: 128GB / 256GB
OS: Android 12 – 4 years of software updates
$599
Google Pixel 6 Pro
Screen size: 6.71″
Display: Plastic OLED
Rear camera setup: 50MP (Wide) + 48MP (Tele) + 12MP (Ultra-wide)
Front camera: 12MP
Battery: 5000mAh
Processor: Google
Ram: 12GB
Storage: 128GB / 256GB / 512GB
OS: Android 12 – 4 years of software updates
$899
During the presentation Google even admitted that Tensor may not win benchmarks, but it will unlock new and important experiences. It is clear that Tensor won't be the fastest processor available but maybe Tensor will deliver the experience new and exisiting Pixel fans will love.