We have been following Samsung's development of its next flagship Exynos chipset that Samsung confirmed earlier this year would integrate an AMD GPU. At Computex Taipei, Samsung announced that its partnership with AMD would see AMD RDNA 2 graphics coming to a Exynos SOC (system on a chip) and would boost GPU performance in "flagship mobile devices."
Samsung describes this new Eyxynos SOC with AMD GPU as "next-generation Exynos SoC" and it will enable features like ray tracing and variable rate shading. Samsung will provide further information later in 2021.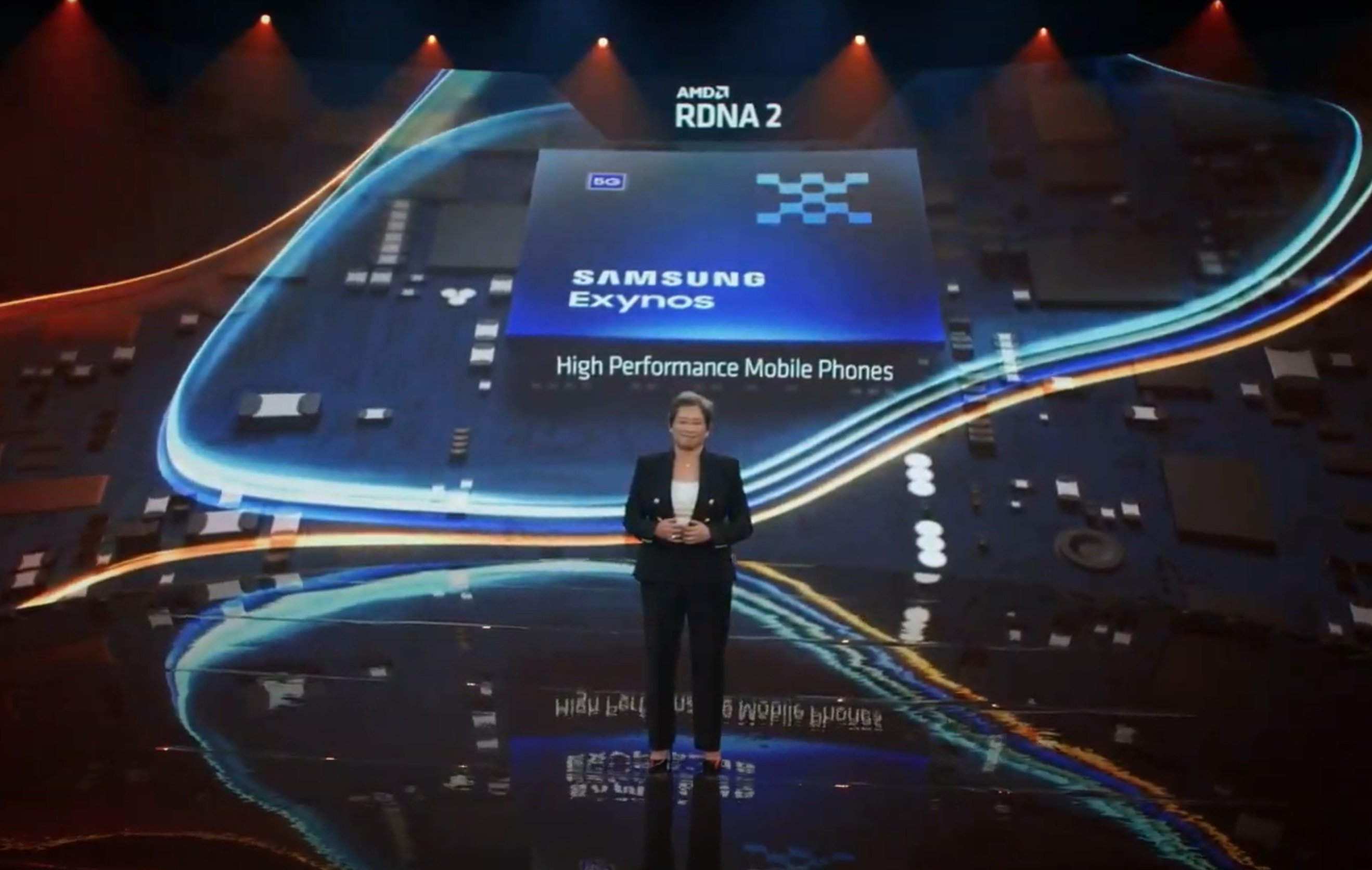 AMD CEO Lisa Su said "The next place you'll find RDNA 2 will be the high-performance mobile phone market. AMD has partnered with industry leader Samsung for several years to accelerate graphics innovation in the mobile market, and we're happy to announce that we'll bring custom graphics IP to Samsung's next flagship mobile SoC with ray tracing and variable rate shading capabilities. We're really looking forward to Samsung providing more details later this year."
Exynos + AMD GPU background
A recent report suggests, Samsung is planning to launch a Windows laptop in the second half of 2021 powered by its new Exynos 2200. Samsung has shipping two ARM PC's thus far with the Samsung Galaxy Book 2 powered by the Snapdragon 855 and more recent Galaxy Book S powered by the Snapdragon 8cx. If this report is factual, them Samsung may adopt Apple's 'one chip for nearly everything' strategy and could mean we would see Exynos 2200 in a future Galaxy Tab S8 as well as the aforementioned future Galaxy Book laptop. The report also says they don't expect Exynos to ship in a phone this year, but could launch with the Galaxy S22 next year.
In a recent leaked benchmark Samsung's new hardware "Blows Qualcomm's Adreno 650 out of the water," according to BGR.About a year ago Samsung announced that it was teaming up with AMD to bring RDNA-based Radeon GPU's to smartphones. According to @Kaz9837, some benchmarks were leaked onto South Korean community site called CLIEN. The Engineers used GFXBench to benchmark the performance of the chip:
| | | |
| --- | --- | --- |
| | Samsung Exynos AMD GPU | Snapdragon 865 Adreno 650 GPU |
| Manhattan 31 | 181.8 frames | 123 frames |
| Aztech Normal | 138.25 frames | 53 frames |
| Aztech High | 58 frames | 20 frames |
For context many companies are moving to designing their own chips to reduce reliance on Qualcomm and Intel. Recently we reported on a rumor that Samsung would debut their Exynos chip inside the Galaxy Note 20. Google may develop its own chips with Samsung amid Microsoft developing its SQ chips, Apple continuing to develop its A-series chips and Huawei developing its Kirin chips.