Today at Samsung Galaxy Unpacked 2021, Samsung took the wraps of the "most powerful Galaxy" Book laptops in their history. Samsung's line of laptops has always had a lot of Galaxy phone DNA in both its hardware and software, because the company tries to differentiate itself amongst its PC competitors.
Samsung Galaxy software
The new additions to the Galaxy Book line of laptops pulls Samsung's Galaxy phones and laptops closer together than ever before, with software like 'Link to Windows' which enables you to interreact with your Galaxy phone without leaving your Galaxy Book and 'Second Screen' which enables you to use a Galaxy Tablet as a second screen for your Galaxy Book Laptop. Samsung also brought many of its Galaxy phone apps to its Galaxy Book laptops which Samsung says is "expanding the mobile experience" to laptops. Smasung is also bringing Smart Things to its Galaxy Book models with a new app enabling users to control lights, thermostat, cameras and other SmartThings-enabled connected home devices.
The Galaxy Book Pro comes with some security enhancements like a privacy folder than can be accessed with 'Windows Key + F12', which prompts you for your password. You can also instantly block screen recording during video calls with the F10 key. Last but now least, if you misplace your laptop, it will automatically take a photo of anyone trying to guess your password and email it to you.
Galaxy Book
Samsung's 'Galaxy Book' is an entry level 15.6″ laptop that ships with Intel's latest 11th-gen Core i3, i5 and i7 or Intel Pentium Gold or Celeron CPUs, Intel Iris X, Intel UHD or Nvidia MX450 graphics, 4, 8 or 16GB of RAM and up to 1TB of storage. It features two USB-C ports, two USB 3.2 ports, one HDMI port, a 3.5 mm headphone jack, a security slot, a Micro SD slot and a nano SIM slot for LTE connectivity. The retail price of $799 is subject to change and will be available in the second half of 2021.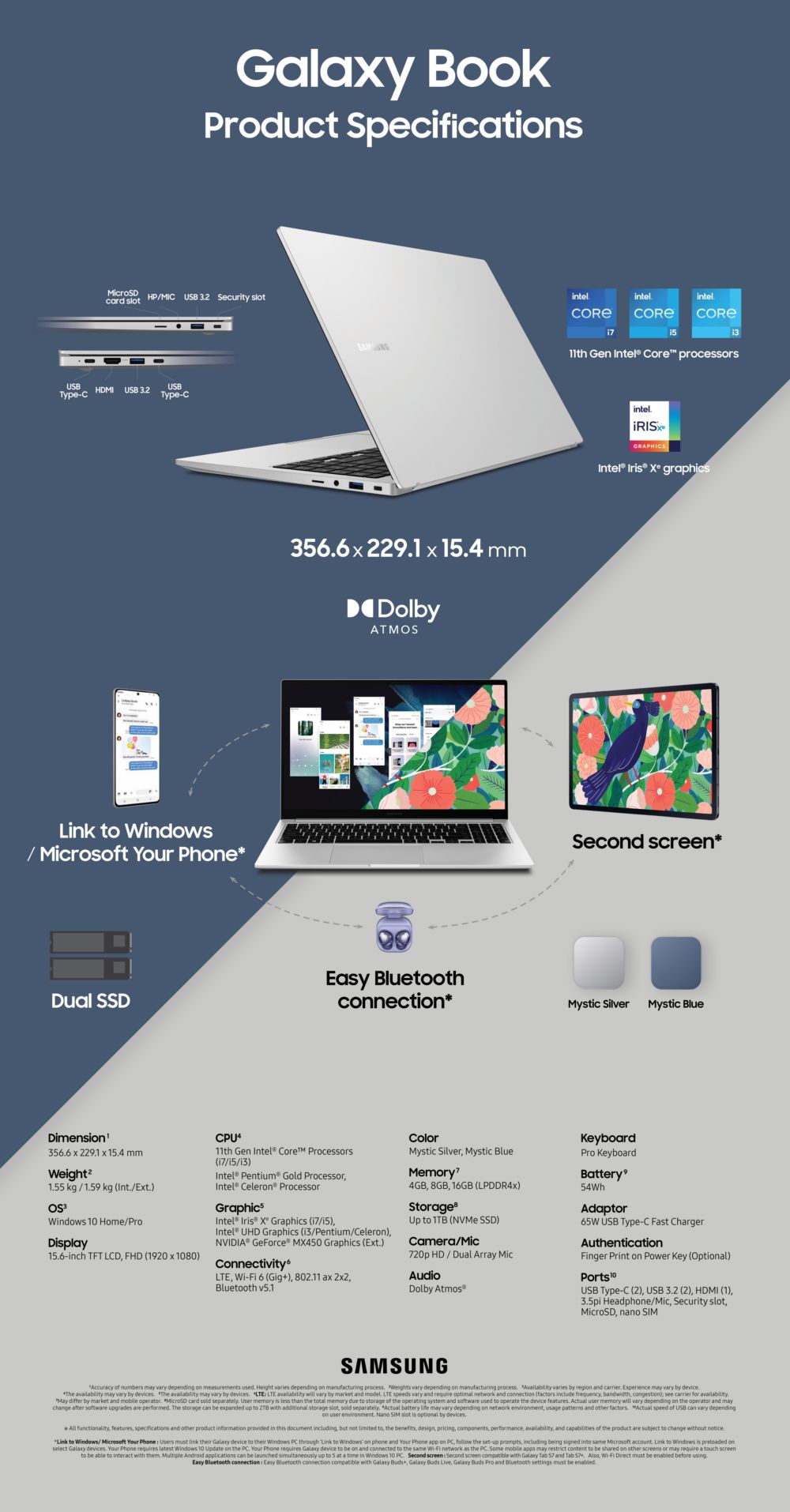 Galaxy Book Flex2 Alpha
Samsung's Galaxy Book Flex2 Alpha features a 360-degree hinge and a 1080p QLED display in both a 13.3″ or 15.6″ size. It can be configured with 8 or 16GB of RAM and up to 512GB of storage. it comes with two USB 3.0 ports, one USB-C port, a headphone jack, power plug, one HDMI and a Micro SD slot. It starts at $849 in the 13″ model.
Galaxy Book Pro
Packing Intel's latest 11th-Gen Core i5/i7 processors, Intel's Iris Xe graphics, Samsung's AMOLED Full HD display and support for LTE/5G. What makes Samsung's offering stand out is its AMOLED display and exclusive software, traditionally Samsung's Galaxy Book laptops have some of the nicest displays in the industry. Galaxy Book Pro starts at $999 for the 13.3″ and $1,099 for the $15.6″, both will be available on May 14th.
Galaxy Book Pro 360
This Galaxy Book shares many of the technical specifications as the Galaxy Book Pro but with a 360-degree hinge and S-Pen support, with the 13″ model selling for $1,199 and the 15″ model selling for $1,399, both available May 14th.
Galaxy Book Odyssey
This may have been what Samsung meant by "the most powerful Galaxy" ever. Galaxy Book Odyssey ships with Nvidia's GeForce RTX 3050 Ti and 3050 graphics cards, a 15.6″ 1080p display, Intel's 11th-gen Core H i5 or i7 CPUs, up to 32GB of RAM and up to 2TB of storage. This laptop packs the most ports of any Galaxy Book with two USB-C ports, USB 3.2 ports, Micro SD, 3.5 mm headphone jack, one HDMI and an ethernet port. Samsung says that Galaxy Book Odyssey packs an "enhanced cooling system" for their gaming laptop. It will be available in August starting at $1,399.