Microsoft has a number of devices that are due for a refresh this year like Surface Laptop 4, Surface Duo 2, Surface Classroom Pen, a Surface Cam and possibly a few others that were teased in the video below.
Surface Laptop 4
Surface Laptop 4 will follow the Surface Pro 8 trend and only see upgrades to the internal hardware with 11-Gen Intel CPU's with Xe Graphics. Just like last year, we will see optional AMD Ryzen Microsoft Edition chips with Integrated Radeon GPU's. Unfortunately, it looks like Surface Laptop 4 will ship with Ryzen 4000 CPU's rather than the newest Ryzen 5000 CPU's. The AMD Ryzen chips will now be available in the 13.5-inch model for the first time and Ice Blue will replace Cobalt Blue which was first debuted on Surface Laptop Go. We can expect to see the new Surface Laptop 4 as early as next week.
We may even get a surprise Surface Laptop configuration early, one that runs on Microsoft's current SQ2 and/or the SQ3 to better compete with Apple's M1-powered MacBook laptops. Microsoft's ARM ambitions is set to expand to more devices in the future with Surface Go 3 coming first and then Surface Laptop Go 2 coming next both running Windows 10X and targeting education and consumers alike.
Surface Headphones 2+
Just like Surface Pro 7+, Surface Headphones 2+ will only be a minor difference from the current Surface Headphones 2. What's the minor difference then? Surface Headphones 2+ will be aimed towards commercial customers and be "Microsoft Teams Certified" and only be available in Matte Black. What's in a name and how will it be Microsoft Team's Certified? It will come with a dongle accessory, according to Brad Sams. The dongle accessory enables the headset to connect to a PC without Bluetooth.
Additionally, for Surface Headphones 1, 2 and 2+ customers, Microsoft will sell you replacement ear pads, if you need to replace worn out ear pads.
Surface Classroom Pen
Microsoft will also launch a Surface Classroom Pen to further optimize Microsoft's push into education with devices like Surface Go 2 and Surface Laptop Go. The pen is expected to be available to ship to customers this month.
Surface Cam
Since remote meetings are so important these days, Microsoft shipping a 1st party webcam makes a lot of sense. It will reportedly support HDR and 4K video. Microsoft had plans to ship a webcam back in 2019 under the codename Bari, but it never materialized, but it sounds like it will launch this month too.
What else is coming in 2021
Surface Duo 2
It's no secret that Microsoft's Duo is a feat of engineering, but the strategy to go from Windows 10X to Android delayed the release and it launched with an almost year-old CPU, the Snapdragon 855 instead of the Snapdragon 865 5G. Surface Duo was always going to start out appealing to only a small number of early adopters but it could see more popularity in 2021 with the second generation Surace Duo. Rumors say the new Surface Duo 2 will come with wireless charging and a better camera, potentially slightly smaller bezels and the possibility for a Graphite color found on the Surface EarBuds.
Wildcard | Surface Studio 3
The Surface Studio 2 has not seen an upgrade in over two years, which makes it the most overdue Surface to receive at least internal upgrades. The 8th-gen Intel Core CPU was already outdated by the time it was released. The Surface Studio 3 was reportedly ready to ship this year but the lockdown imposed by some states affected the economy in a negative way and Microsoft could be holding the 3rd-gen Surface Studio back for release in 2021. There have been rumors even before the Surface Studio was released about a Surface display and recent rumors about a modular Surface Studio that enables the insertion of a Compute module into the base of the display. This modular system would enable the device to then function with the other Surface devices as well as function as an all-in-one PC. The Surface Studio is featured in the teaser video above and could signal the long-awaited refresh.
Alternately, you could turn your Surface Book into a Surface Studio like we did.
What's coming later in the year
Surface Go 3
The was a black Surface Go 2 that was supposedly supposed to ship this year but was cancelled instead and along with the Surface Pro X with SQ2 becoming available with the Platinum finish could signal a move away from black all together. There have been other rumors that since the Surface Neo has been delayed and Windows 10X is now prioritized for single display devices that Surface Go 3 could release with Windows 10X instead of Windows 10. Surface Go 3 is a prime candidate for Qualcomm's 7c chip or potentially the SQ1 or SQ2 as optional upgrades. Google is rumored to have a Snapdragon 7c-powered Surface-like device running ChromeOS coming in 2021 and Surface Go 3 powered by Snapdragon 7c and running on Windows 10X could be its natural counterpart.
Surface Pro 8
Since Microsoft's Surface Pro 7+ was just released and only received internal upgrades, we don't expect and haven't heard that the 8th version is expected till at least fall of this year. The Surface Pro 8 is expected to feature a Surface Pro X-like design, but we speculate that the reason it has been held back thus far was to give Surface Pro X more attention at the top of the Surface Pro line of tablets as well as get more people using Windows 10 on Arm.
Surface Pro X (3rd-generation with SQ3)
Microsoft's only ARM-powered Surface to date could get some company from ARM-powered Surface Laptops in 2021 but any upgrades coming for the Surface Pro X are only internal, which is okay, since the design is still very new. Microsoft's SQ2 chip that became available as an option for the Surface Pro X in October 2020 will likely continue to be an optional chip going forward with the SQ1 dropping from availability on the Surface Pro X. The SQ3 paired with 5G will take the top spot as Microsoft's most powerful chip option and will likely be based on Qualcomm's work with ARM's recent Cortex-A78C chips for ARM PC's. Both the SQ1 and SQ2 are based on Qualcomm's first and second-gen 8cx chips which in turn are based on the Snapdragon 855 architecture.
The new ARM Cortex-A78C chip is purpose built for the next-generation of ARM-powered PC's with support for up to 8 big CPU core clusters for a more "homogenous multi big core computing". The Cortex-A78 architecture is expected to be part of Qualcomm's Snapdragon 875 and Samsung Exynos 1080 smartphones SoCs. With the inclusion of 8 Big CPU Cores, the ARM Cortex-A78C will be compatible with the new Mali-G78 GPU. The A78C is specifically designed to offer eight cores worth of "big" CPU performance, with either 256KB or 512KB of L2 cache per-core and up to 8MB of L3 cache for all the CPUs to share. L1 cache size could be 32KBor 64KB for each of the instruction and data caches. The L3 cache reportedly supports up to 60GB/s of sustained bandwidth. This should directly translate to increased performance.
Microsoft's 3rd generation Surface Pro X is likely to be equipped with Microsoft's custom SQ3. SQ3 is believed to be based on Qualcomm's Snapdragon 8cx Gen3 or one of three variants of Qualcomm's Snapdragon 8280.
Surface Laptop Go 2
Although Surface Laptop Go just arrived in October, we could see internal hardware upgrades to the CPU with some 11-gen Intel Core Processors and possibly the addition of backlit keys. The Surface Laptop Go is said to run run on Microsoft's current SQ2 and/or the SQ3 to better compete with Apple's M1-powered MacBook Air laptop. Just like with Surface Go 3, Microsoft could opt to ship Surface Laptop Go 2 with Windows 10X powered by Qualcomm's Snapdragon 7c, SQ2 or SQ3 options.
Surface Laptop Pro
There are those in tech journalism that have opined on the possibility of a Surface Laptop Pro in development. There seems to be no evidence to support such a notion but a more powerful Surface Laptop option would be welcome. Surface Laptop fit oddly in the market from day one, is it the counterpart to Apple's MacBook Air or MacBook Pro. it is more powerful than previous MacBook Air laptops but don't quite stack up against Apple's MacBook Pro series in terms of sheer CPU power. The potential addition of a 'Pro' model would change that, at least against the non M1-powered MacBook Pro laptops at least. If Microsoft did have plans for a Surface Laptop Pro with a discrete GPU and more powerful CPU options it would likely still sell well, but where does that leave Microsoft's top tier/most powerful Surface, Surface Book 3?
Microsoft will likely not release a Surface Laptop Pro and will instead redesign the Surface Book 4.
Surface Book 4
The internet has been discussing the Surface Book 3's lack of CPU power compared to its similarly priced counterparts in the market like Apple's 16-inch MacBook Pro and other PC's like Dell's XPS 13/15 and HP's Spectre series. We wrote about this subject earlier this year then shortly after we reported that an Industrial Designer at a design consultancy in Seattle churned out a concept of the Surface Book 4 based on his own experience with his Surface Book 2. Aside from that, the purported numbers of users that detach the tablet from the keyboard base is extremely low and seems like an unnecessary feature given the limit the detachable tablet's thermal constraints puts on the CPU selection.
Surface Neo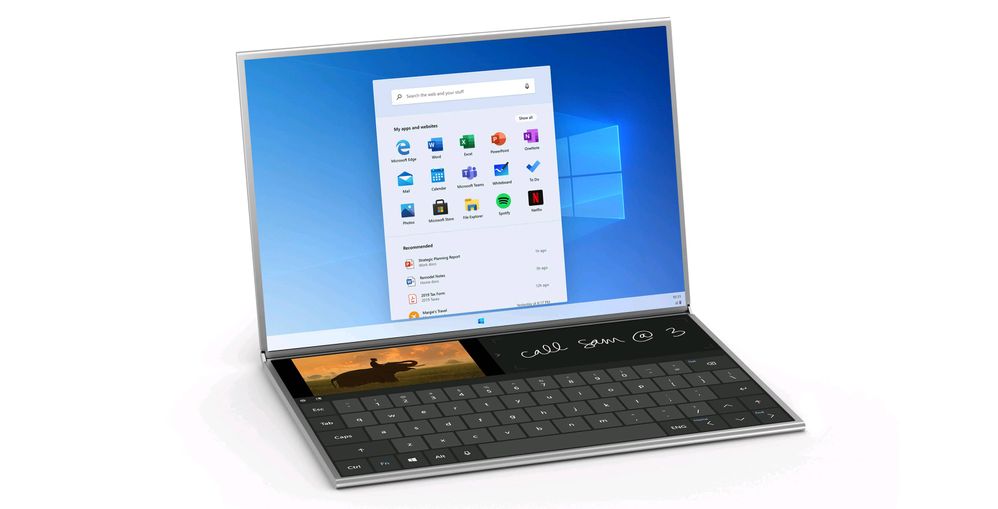 Microsoft's Surface Neo was introduced alongside many of devices in this article back in October 2019 but was delayed earlier this year due to some states locking down their states and many companies sending their employees' home to work remotely or lay them off entirely. 2020 wasn't good to the Surface Neo, but 2021 could be better as long as the rest of the states open up again. The only way Microsoft will ship the Neo next year is if there is a market for it, because in 2020 there wasn't. Windows 10X has hit RTM and is being released to OEM's to flash onto their upcoming devices. In 2021 we will see the Surface Neo's OS before we get a Neo in hand. This delay could enable further development and see the upcoming SQ3 chip making its way into the Surface Neo instead of an Intel CPU. Windows 10X and ARM are the perfect pairing for a tablet like device like Surface Neo and could be made better with the replacement of Intel with Microsoft SQ3.