Microsoft is making headlines today, not for its next-gen consoles or any new PC's but for what might someday power them. It's no secret that Apple's new Macs powrred by Apple's new M1 chip has shaken the industry in a profound way. Microsoft is often seen as Apple's counterpoint in the industry and when Apple's three M1-powered Macs vastly outperformed Microsoft's own Surface Pro X powered by Microsoft's SQ2 chip made jointly with Qualcomm, Microsoft likely took notice. When a few resourceful tinkerers managed to boot Microsoft's own Windows 10 on ARM onto the M1-powered MacBook's under emulation and the Macs were still faster than Surface Pro X, Microsoft likely had choice words for Qualcomm.
Microsoft SQ1
Qualcomm's first ARM PC chip was the Snapdragon 8cx (Compute Extreme). Microsoft's Surface Pro X SQ1 was based off this chip but with a number of notable modifications. Microsoft's SQ1 features higher clocked CPU and GPU cores with a TDP of 7W. The 8cx CPU is clocked at 2.84GHz while SQ1 is clocked at a full 3GHz. The integrated Andreno 685 GPU found in the SQ1 is a higher clocked Andreno 680 found in the 8cx. The SQ1's Adreno 685 clocks at 2 TFlops versus the 1.8 TFlops of the Snapdragon 8cx integrated Andreno 680. The chip is said to be passively cooled and should not need to be throttled under constant load. The Geekbench benchmark below shows the performance of the SQ1-powered Surface Pro X.
Microsoft SQ2
Just like how the SQ1 was based on Qualcomm's 8cx, the SQ2 is based on Qualcomm's 8cx Gen2 5G, just without the 5G. Having to redesign the Surface Pro X's antenna system is a heavy investment considering the design is only a year old for a technology that is still very new and lacks coverage in many areas still. Both chips are essentially the same except the SQ2 has a 9W TDP, the CPU is clocked even higher at 3.15GHz. As you can see from the Geekbench benchmark below, there is only a slight performance improvement from the SQ1 to the SQ2.
Microsoft has used ARM chips in PC's in an on-again off-again story, the first Surface powered by ARM was announced all the way back in October of 2012 as an answer to Apple's iPad. Apple's iPad delivered a simpler tablet experience with all day battery life. The first ARM-powered Surface would make it to Gen2 but no further.
Windows 10 on Arm
In the fall of 2017, the announcement of Windows 10 on Arm marked Microsoft's return to ARM chips with a Latptop from Asus and a 2in1 tablet from HP running on the Snapdragon 835. Subsequent chip device releases would see chips like the Snapdragon 855 until the first purpose-built ARM PC chip built by Qualcomm, the Snapdragon 8cx.
Microsoft has been solely reliant on Qualcomm for its Windows 10 on Arm ambitions and any stumble on Qualcomm's part could severely impede Microsoft's momentum with its fledgling platform. When Microsoft looked to Qualcomm to deliver a significant performance boost to its second-generation Surface Pro X, Qualcomm stumbled. Qualcomm's only ARM PC chip in hindsight today is a major failure during a year when Apple would shake the industry with the first Apple Silicon chip designed for its Macs.
Microsoft once again is relying on a chip vendor for their own success, something Apple no longer subjects itself to. Apple's chips perform well beyond most Intel and AMD PC chips, absolutely wipes the floor with the Surface Pro X's SQ2.
Microsoft Silicon
Today's news comes via Bloomberg, the report details how Microsoft will be using its own in-house designed ARM in its data centers and "exploring using another chip that would power some of its Surface line of personal computers." This move would mark another significant shift for Microsoft on its ARM journey that started with its first ARM-powered Surface using Qualcomm Snapdragon chips, to Microsoft-branded Qualcomm chips and on to chips designed entirely by Microsoft. The report points out how Amazon is "already well down the road with similar efforts. They've argued their chips are better suited to some of their needs, bringing cost and performance advantages over off-the-shelf silicon primarily provided by Intel."
The report also goes onto suggest that "Microsoft's efforts are more likely to result in a server chip than one for its Surface devices, though the latter is possible, said one of the people. The company's chip design unit reports to Jason Zander, head of the Azure cloud business, rather than Panos Panay, who oversees Surface products. Representatives of Microsoft and Arm declined to comment on whether Microsoft is working on server and PC processors."
Microsoft recognizes the importance of integrated software and hardware. Microsoft's spokesman Frank Shaw said ""Because silicon is a foundational building block for technology, we're continuing to invest in our own capabilities in areas like design, manufacturing and tools, while also fostering and strengthening partnerships with a wide range of chip providers."
Much like mobile PC's, battery efficiency is paramount, one major reason for Microsoft's interest in ARM-based servers is driven by many of the same concerns. It's no secret that data centers are power hungry, ARM-based servers could help that situation. ARM chips are doing many new things that they are especially good at like AI. Microsoft recently rolled out the 'Eye-contact' feature to the Surface Pro X because of its unique ARM-powered AI capabilities that can literally keep you're the image of your eyes focused on the built-in webcam during video calls.
Surface devices of tomorrow
Along with the ARM-powered Surface Pro X, Microsoft may be interested in delivering its Surface Neo dual-screen PC with Microsoft Silicon. Surface Neo was slated to be released this year but the economic slowdown caused by some states locking down made Microsoft shift its priorities with the device a bit. Surface Neo was meant to ship with a new variant of Windows called, Windows 10X. It would be light, fast, touch friendly and designed (at least initially) for dual screened PC's like Surface Neo. Earlier this year Panos Panay came out and stated that Surface Neo would be delayed and Windows 10X would first find its home on single screen devices to compete with iPadOS and Chrome OS. A couple of recent Surface devices added to the lineup include a couple of prime candidates for not only Windows 10X but Microsoft Silicon as well, Surface Go and Surface Laptop Go.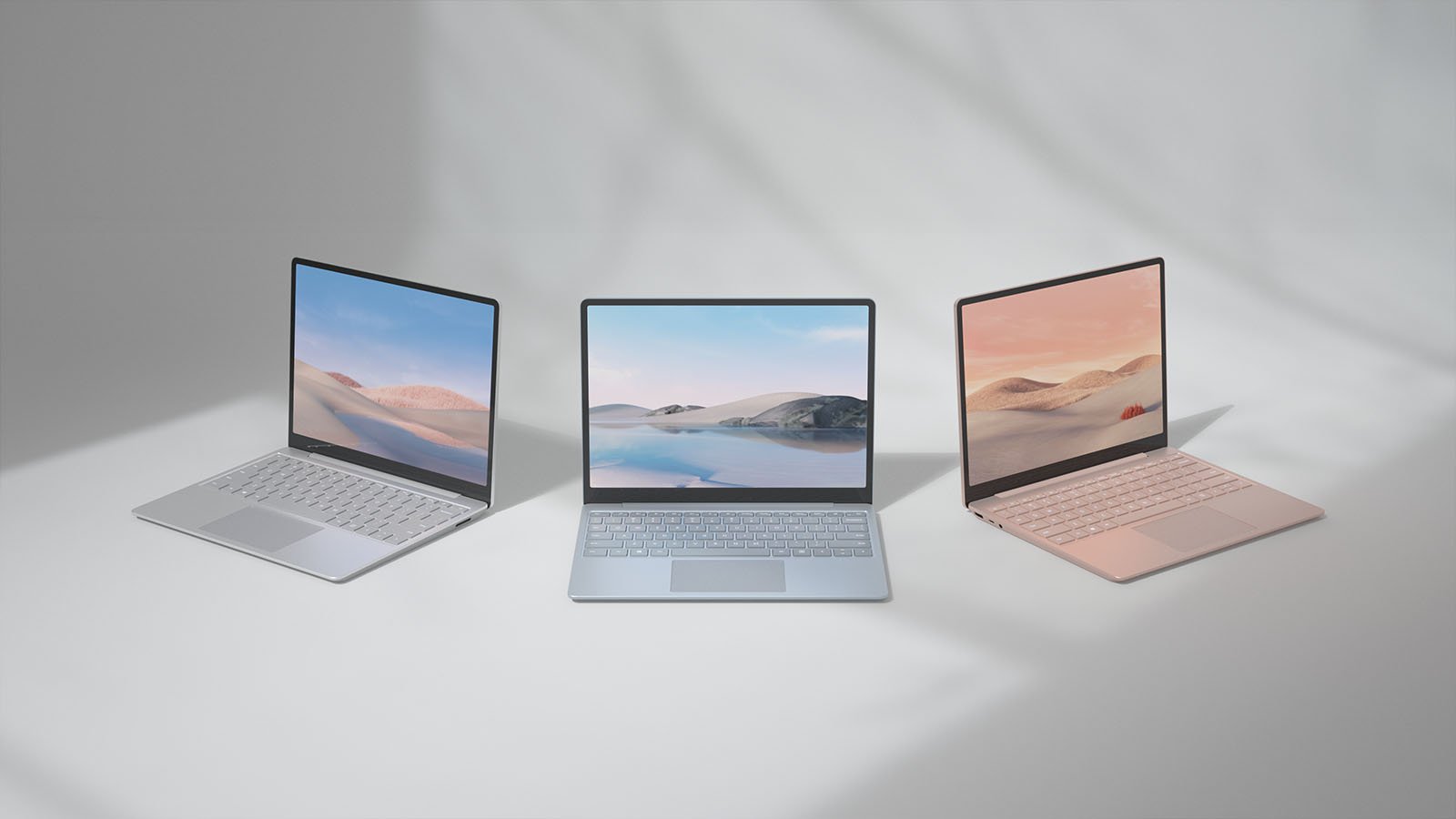 The marriage of Windows 10X powered by a potent Microsoft Silicon chip would certainly compete well with offering from platform owners such as Apple's iPadOS and Google's Chrome OS. For PCs such as Surface Laptop Microsoft Silicon could be paired with Windows 10 to compete directly with Apple's new M1-powered MacBook laptops.
One thing is for sure, after Qualcomm failed to deliver a substantially better Snapdragon 8cx Gen 2 5G and the arrival of Apple's M1-powered Macs, Microsoft can no longer rely on other for their own success.