Apple recently launched M1-powered Macs, like the MacBook Air, MacBook Pro and Mac mini. One of the side benefits of the new M1 Macs is the ability to run iOS and iPadOS apps right on macOS. The App Store is full of high-quality Apps & Games from high profile developers from around the world, with some games a part of Apple's Arcade gaming subscription. Apple has been selling the Apple TV set top box with games available in its Apps Store for many years now. The Apple TV has only seen a few hardware upgrades and is currently only powered by the outdated Apple made A10X.
With the launch of the M1 Mac mini, could it be that this would make a more versatile and more performant gaming machine than the Apple TV?
The iPadOS & macOS App Store
The M1-powered Mac mini has two App Stores it can draw from for games, the macOS App Store and iPadOS App Store. M1 Macs can even run Windows games with the Crossover App. Is the M1-powered Mac mini the most underrated gaming machine in 2020?
With the compatibility to connect many third-party gaming controllers like Xbox controllers and others, the M1-powered Mac mini could be ready for gaming with a wider array of games available to it than most PC's.
M1-powered Mac mini specs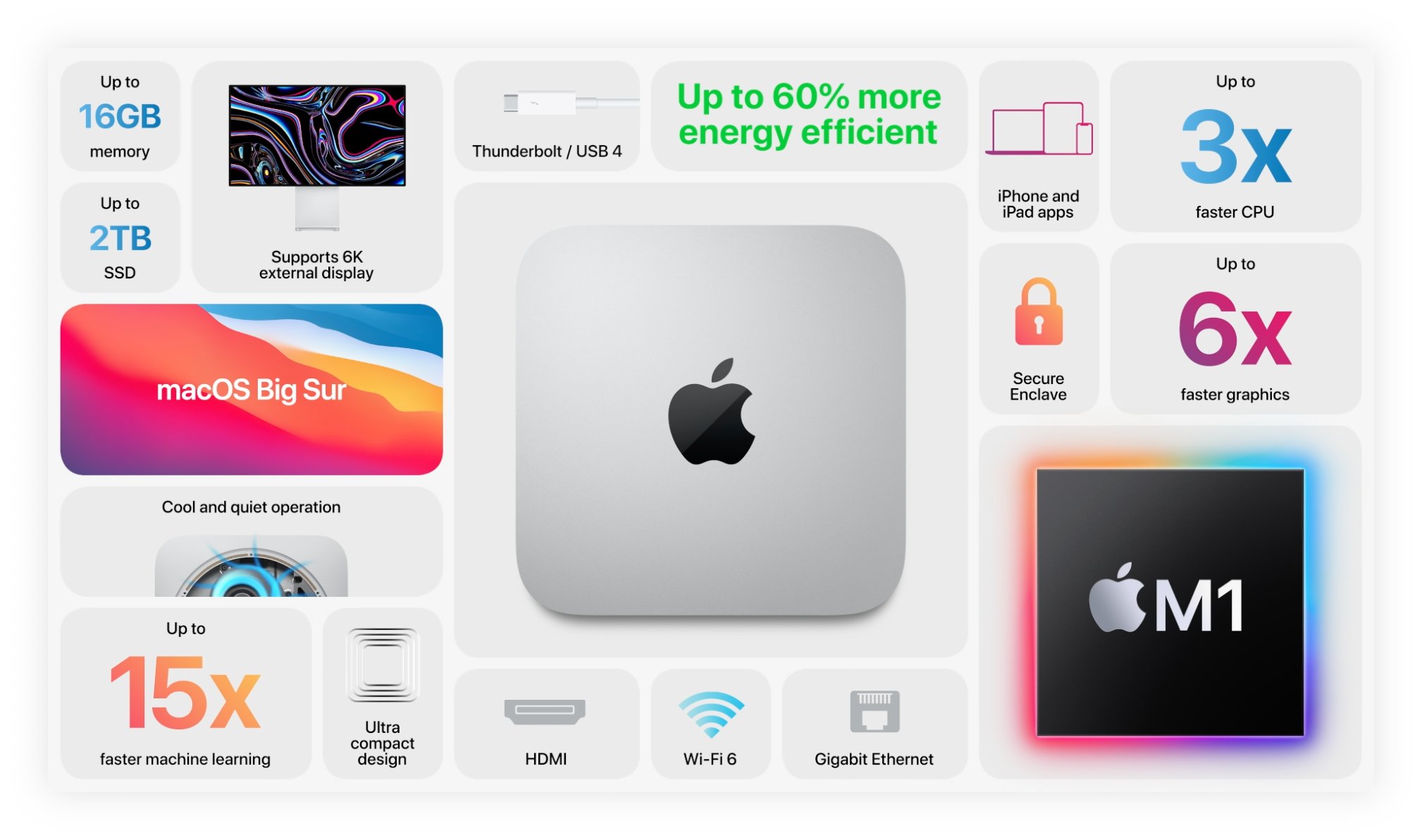 While the exterior of the new Mac mini is unchanged, the internals of the Mac mini are all new. Below is a table of the specs.
Mac mini
CPU
8-core @ 3.2GHz
GPU
8-core GPU (512GB+)
RAM
8GB

16GB
Storage
256GB

512GB

1TB

2TB
Ports
DisplayPort
Thunderbolt 3 (up to 40Gb/s)
USB 3.1 Gen 2 (up to 10Gb/s)
Thunderbolt 2, HDMI, DVI, and VGA supported using adapters (sold separately)
Two USB-A ports (up to 5Gb/s)
HDMI 2.0 port
Gigabit Ethernet port
3.5 mm headphone jack

Cooling
Active
Size & Weight
Height: 1.4 inches

Width: 7.7 inches

Depth: 7.7 inches

Weight: 2.6 pounds
Color
Silver
Geekbench Best Single core
1744
Geekbench Best Multi core
7712
Starting Price
$899
M1-powered Mac mini Benchmarks
Below is a sample from Geekbench Browser of M1-powered Mac mini devices from November 30th. We can see that the single-core scores are pretty consistent around 1700 and the multi-core scores are around 7500.