Samsung's Galaxy Unpacked 2020 event proved to be quite an event, even though we knew about nearly everything prior to the event today. Below is a roundup of the major announcements.
Galaxy Z Flip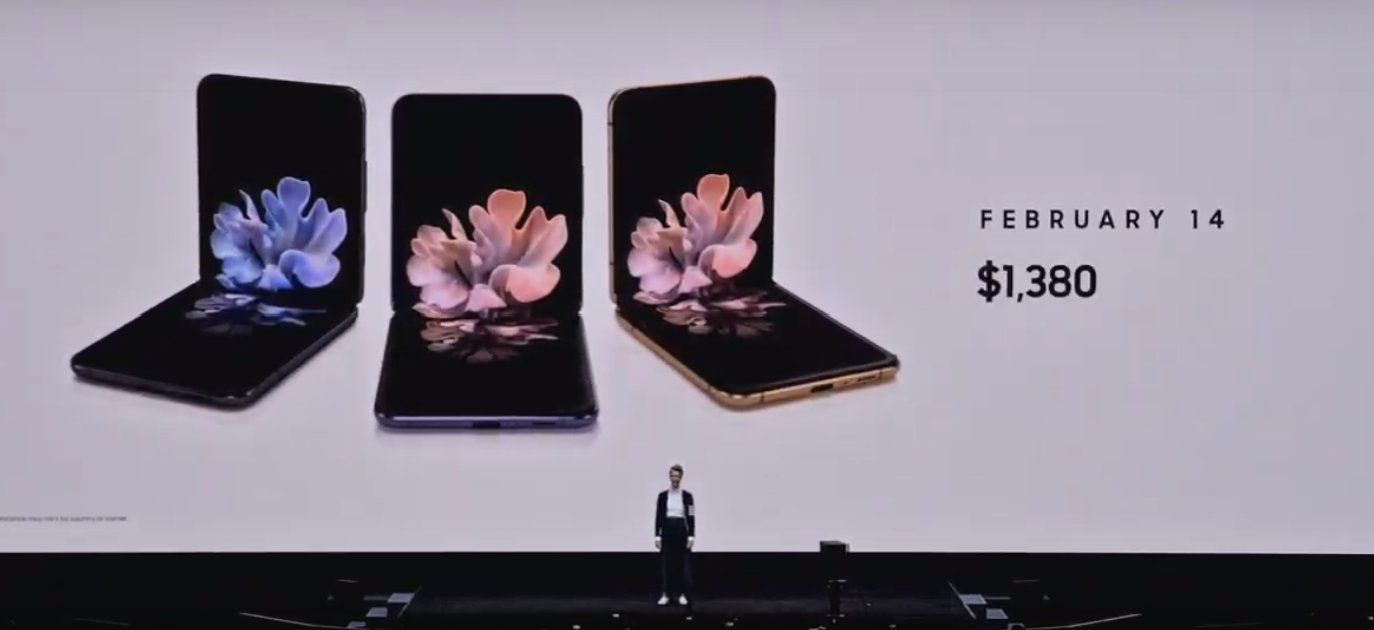 The Galaxy Z Flip has been an open secret and is a new take on the flip phones of yesterday paired with a folding glass display. Some of the most beloved features of flip phones were the ability to hang up on a call by flipping the phone closed, folding into half of its footprint and while closed showing notifications through the outside cover. The Display is a 6.7″ display when completely unfolded, which is an a 22:9 aspect ratio. On the performance side of things, it is thought to have a Snapdragon 855, 8GB of RAM and 256GB of storage. In terms of its price of $1380, it is comparable but undercuts the Motorola Razr at $1499 and the Galaxy Fold at $1980.
Galaxy S20
The Galaxy S20 5G features a 6.2″ WQHD+ Dynamic AMOLED display with a 20:9 aspect ration. It is rumored to be powered by Samsung's own Exynos 990 and 128GB of storage. The Camera arrangement will be a 12MP wide-angle lens, a 64MP telephoto lens, a 12MP ultra-wide sensor on the back & a 10MP selfie sensor on the front.

Galaxy S20+
The Galaxy S20+ 5G features a 6.7″ WQHD+ Dynamic AMOLED with a matching 20:9 aspect ration to its sibling. It will feature a 12MP wide-angle camera, a 64MP telephoto lens, and a 12MP ultra-wide camera on the back, and a 10MP selfie sensor on the front.
Galaxy S20 Ultra
As per its name the Galaxy S20 Ultra is the most premium of the trio. with the largest of the display of the bunch, the display on the Ultra is a 6.9″ WQHD+ Dynamic AMOLED with the same aspect ratio as its siblings. This one features a 108MP wide-angle sensor, a 48MP telephoto sensor, a 12MP ultra-wide sesnor, and a ToF sensor.
Galaxy Buds Plus

Not to be outdone by Apple and the Air Pods Pro, Samsung announced its Galaxy Buds Plus. These new Galaxy Buds look just like the existing Galaxy Buds but they have 11hrs or battery life and 22hrs of battery life with its case. It also features improved audio quality with a dual-driver design.
Get better Deals than Samsung is offering on its own late model Phones below>

By Platform De.Central | Source: Samsung